Holiday Party Promotion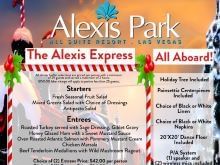 The holiday season will be here before you know it. Start planning your group party now!
The Alexis Express includes a celebration buffet, decorated holiday tree, poinsettia centerpieces, a dance floor and much more!
Call (702) 796-3341 or email ericka.luevano@alexispark.com for more information.
Highlights
Book Your Holiday Party Now and Earn 5% in Cash Rewards
Terms and conditions
All dinner buffet selections are priced per person with a minimum of 25 guest and served a maximum of 2 hours
$150 labor charge will apply to parites less than 25 guests.